Title
Financial Inclusion: Evolution and Contemporary Challenges
Duration
1 hour 5 minutes
About the Course
This lecture examines the conceptual development of financial inclusion, its benefits, and linkages to the Sustainable Development Goals; identifies countries making financial inclusion progress and why, including the role of policy and regulation; and assesses key remaining challenges.
Unit 1: What is Financial Inclusion and Why Does It Matter? (10 minutes)
Unit 2: Which Countries Are Making Financial Inclusion Progress and Why? (9 minutes)
Unit 3: The Role of Policy and Regulation in Promoting Financial Inclusion (14 minutes)
Unit 4: Some Complex Challenges in Financial Inclusion Policy (21 minutes)
Unit 5: Leveraging Fintech for Financial Inclusion Goals (13 minutes)
Learning Objectives
To help learners understand the pillars of an effective financial inclusion policy framework, boosted by country-level examples.
How to Complete this e-Course
Watch 5 short video lessons
Review open access learning materials
Submit an Evaluation Form
Certificate issued upon completion of course requirements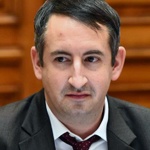 Robin Newnham, Head of Policy Analysis, Alliance for Financial Inclusion (AFI)